JetX Rocket Game at Pin Up Casino
Increasingly played in online casinos, JetX has managed to convince a large community of lovers of strong emotions. If you have a resilient heart and are in need of adrenaline, hop on this rocket doomed to explode, but don't jump too late…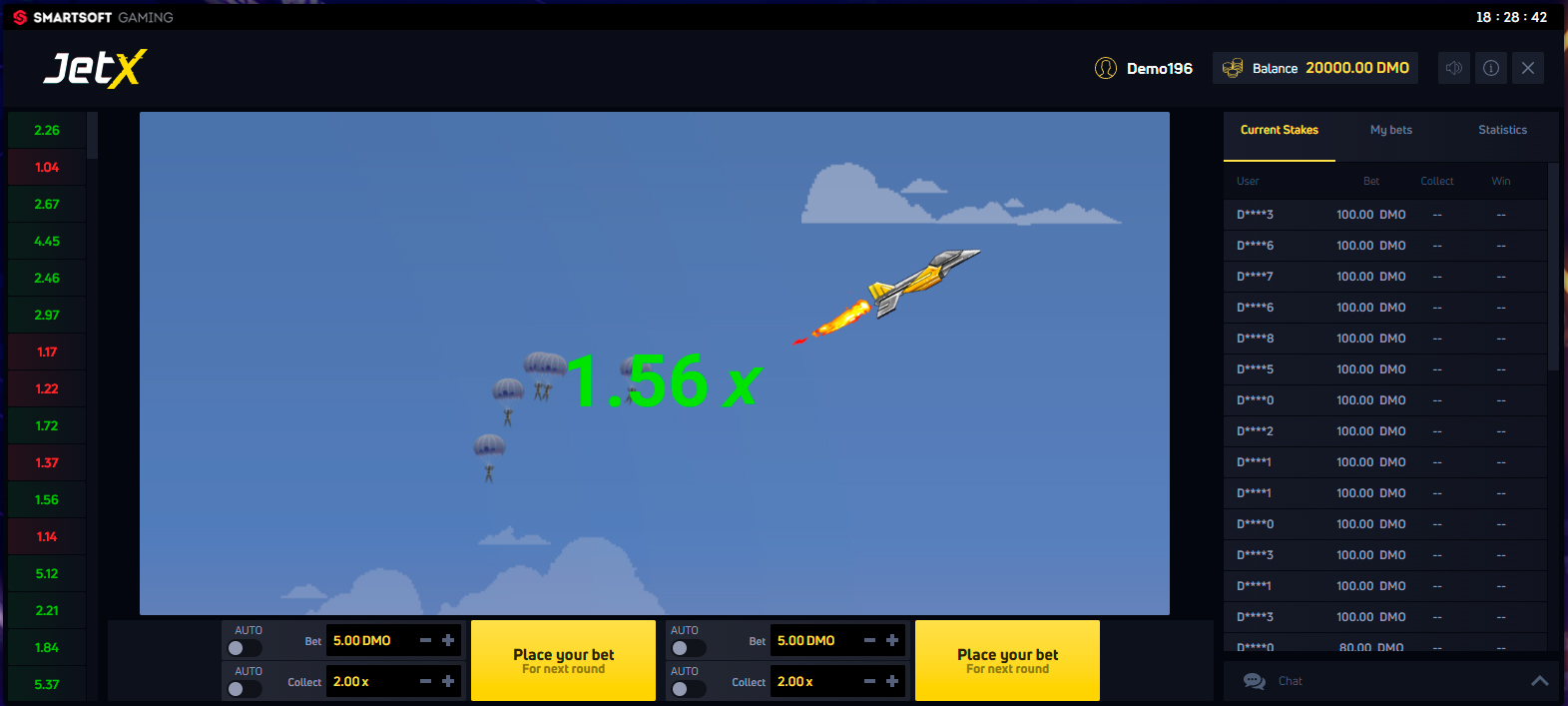 What is the JetX Crash Game?
JetX is an arcade game developed by SmartSoft Gaming. A multiplier is randomly generated with each match. The animation begins while players place their bets, and play stops when the jet takes off. The higher the jet rises and the longer it remains in the air, the more the multiplier increases. At any time, the player can decide to "cash out" in one click, ejecting himself out of the plane before it explodes, and multiplying his bet at the exact moment he withdraws. The objective is, therefore, to withdraw your bet as late as possible, avoiding the explosion. If you do not withdraw your bet in time, you lose it completely.
Two options make your moves easier. An option allows you to automatically bet on the value entered, and this is at each start of the match. The second option allows you to automatically withdraw your bet when a certain multiplier is reached. For example, if you choose this option and select x2, your bet will be automatically withdrawn when the multiplier reaches x2 (if the rocket has not yet exploded).
| | |
| --- | --- |
| 🤖 Provider | SmartSoft |
| 💰 Min Bet | USD 1 |
| 💸 Max Bet | USD 600 |
| ❌ Max Multiplier | 30000x |
| 💎 Volatility | Low |
| 📈 RTP | 97.00 % |
Where to play JetX?
We present the Pin Up online casino which offers Aviator, a game equivalent to JetX with a maximum win of up to 10 thousand euros.
Are there winning techniques in JetX?
Despite the simple design and very repetitive operation, JetX attracts more and more players. In part, this is because many players believe that they can use some technique to always make a profit.
Keep in mind that, in front of the casino, you are always mathematically a loser. With a slot machine, you have no influence whatsoever on your chances of winning, but in some games, your behavior will impact your odds. In blackjack, for example, you can reduce the casino's advantage by respecting a table. Likewise, you can improve your JetX strategy to increase your chances and reduce your losses in the long term.
Be aware that you can win many games, perhaps even an entire night, but in the long run, the casino's mathematical advantage will always catch up with you.
The Martingale Strategy for JetX game
The Martingale is a technique used in many free casino games. Your goal is to always win against chance in the long term and, in theory, with the Martingale System you can do it. However, we will see that in practice it is not that simple.
The basis of how the Martingale works is very simple. The idea is to double the bet, that is, we are looking for "x2". When we lose, we double the bet until we win. If we have an infinite balance, in theory, we always end up winning and therefore recovering all bets beyond the initial bet.
Let's look at an example with JetX
You bet EUR 10 and set the automatic collector to x2. If the explosion occurs before x2, you lose EUR 10. In this case, you bet EUR 20 and, in the case of a new explosion before x2, you double again, betting EUR 40. If the JetX result is less than x2 for 5 spins in a row and exceeds this multiplier in the 6th game, you lose the first 5 bets and win the 6th. So you will have bet a total of EUR 310 (10 + 20 + 40 + 80 + 160) and pocketed EUR 320 (160×2 = 320).
This method is very popular with JetX players as they estimate that the explosion will not occur before 2x many times in a row. This technique is limited for two reasons:
Your money is not infinite. For the martingale to work, you need to anticipate a long losing streak, and no one has an unlimited bankroll. 10 consecutive losses require, for the 11th game, a bet equivalent to 1024 times the initial play.
Bet limits. Casinos limit your maximum bet and also set a minimum bet. If you start a martingale with an initial bet of EUR 1 and lose 9 times in a row, you will need to bet EUR 512, according to the martingale rules. However, your bet on JetX cannot exceed EUR 300.
Please note that JetX offers an additional bet. Often used to target a different multiplier, this second bet allows you to double your roll and chain together an 11th attempt in your Martingale strategy if you time it in the same way as the first. This brings us to the biggest problem with martingale: if you reach your last possible bet (maximum bet or bankroll exhaustion) and are unlucky, the loss will be greater. Also don't forget to check if a Martingale system is allowed at the casino where you intend to play, which is not always the case.
Withdraw your bet at JetX as soon as possible
This technique consists of betting larger sums and withdrawing your bet as soon as you can, to obtain a minimal, but recurring, win. In Rocket Game Bet, the auto-withdraw function is limited to a minimum of x1.35, so you will need to click it yourself to exit the JetX Rocket Game in time!
Furthermore, it is not uncommon for the explosion to happen at x1.00, leaving you no time to act. With this technique, therefore, you lose a large sum if a catastrophe happens. Therefore, it does not seem ideal for limiting losses, although it is fun to play, as it puts you under pressure before each takeoff.
JetX: to infinity and beyond
It's a technique that frequently reappears in JetX. We aim for a low multiplier, between x1.3 and x1.4, making medium bets. In reality, we are simply betting on luck, with the hope that, for the duration of the session, the multipliers will be higher than a long-term average.
With this in mind, the best way to spice up the match is to use the second bet to place a much lower sum and seek the highest possible multipliers. So you can test your coolness and let the rocket gameplay on your nerves as the aircraft takes off towards unlimited sums!
Play in the Jetx Rocket Game at Pin Up Casino
JetX Pin Up is an exciting rocket game that will delight players looking for adrenaline. You can test your coolness and even challenge other players. In each departure, you will see the bets of each passenger on the plane and you will be able to see them eject before you. Observing that other players have not yet withdrawn their bets may influence and encourage you to wait longer as well.
Did you like the Jetx game? If so, you might like to try Aviator Bet.
This connection between players adds an effective "plus" to a game that could be excessively repetitive. The infinite potential of the multiplier creates a real element of mystery with each takeoff and explains the excitement surrounding this game. So for the bravest, enjoy taking off and don't forget your parachutes, because JetX is ruthless with those who have their heads in the clouds!
FAQ
🌀 What is the JetX crash game?
JetX is a thrilling crash game where players place bets on a virtual jet that takes off, increasing the multiplier as it flies. The objective is to cash out your bet before the jet crashes, aiming for the highest possible multiplier.
🌀 How do I play JetX?
Start by selecting your desired bet amount. As the jet takes off and the multiplier increases, decide when to cash out. If you cash out before the jet crashes, your bet is multiplied by the current multiplier. If the jet crashes before you cash out, you lose your bet.
🌀 Is there a demo mode available for the JetX game?
Yes, many platforms offer a demo mode for JetX, allowing players to get a feel for the game without risking real money. Look for a 'Demo' or 'Free Play' button on the game interface.
🌀 How do I access the JetX demo mode?
Navigate to the JetX game on your chosen platform. Before launching the game, select the 'Demo Mode' or 'Free Play' option to play with virtual credits.
🌀 How is the crash point determined in JetX?
The crash point in JetX is determined by a random number generator, ensuring fair play. There's no way to predict when the jet will crash, so players should use their intuition and strategy.
🌀 Can I see my game history and past multipliers in JetX?
Yes, JetX typically provides a game history feature, allowing players to view past game rounds, their bets, and the corresponding crash multipliers.
🌀 Are there any bonuses or promotions related to JetX?
Promotions vary by platform, but many online casinos offer promotions or bonuses tailored to popular games like JetX. Always check the promotions page or inquire with customer support for specific offers.
🌀 What's the difference between JetX's demo mode and real play?
In demo mode, you play with virtual credits and cannot withdraw winnings. In real play, you're wagering real money and stand to win or lose actual funds. The game mechanics are consistent across both modes.
🌀 Can I set a maximum multiplier to auto cash-out in JetX?
Many versions of JetX feature an auto cash-out function. Players can set a desired multiplier, and the system will automatically cash out the bet if that multiplier is reached before a crash.
🌀 Is JetX available on mobile devices?
Yes, most online casinos have optimized JetX for both desktop and mobile play, ensuring a smooth gaming experience regardless of device.